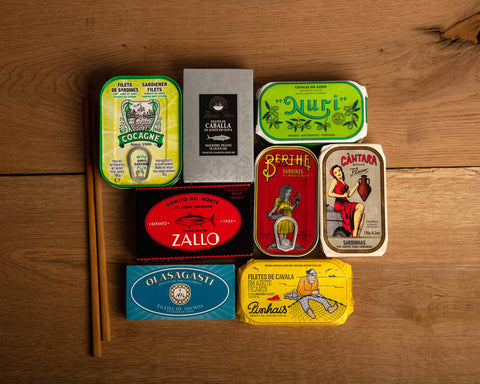 Classic international box
The Classic international box features sardines, tuna and mackerel. We send the 9, 18 or 30 tins all together, so that you receive all your tins at once. We send the tins in our custom packaging so that it makes an ideal gift. The international box showcases the best of the tins we have discovered. Each tin is carefully chosen from the canneries we source from. The secret to why the fish tastes so good is simple: the best fish are chosen at shoreline markets in the morning and canned hours later using slower, hands-on techniques.
Tell us the fish. Choose from sardines, mackerel and tuna.
More information
•This product is excluded from delivery outside the UK. However, the International Box is available to customers overseas.
•This is a one-payment subscription and does not renew automatically.
•At checkout, there is an option to have your first parcel shipped at a later date.
•The tins contain the allergens fish or molluscs and in limited instances contain other allergens such as mustard, sulphites and gluten. Please visit the More Information section of the pages for individual tins to find detailed information about allergens, ingredients and nutrition.