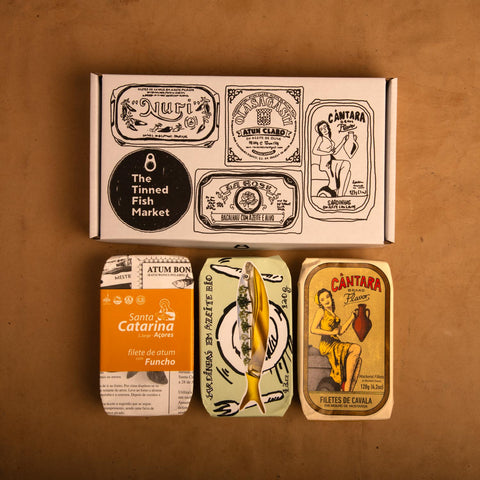 Tuna, sardines and mackerel | 085
The Three Range is a showcase of artfully-prepared tinned fish. Only the best fish go in the tins, sourced at morning fish markets and packed hours later in fine olive oils and sauces by the expert conserverie workers. The tins are presented in our signature, illustrated gift box together with a card to which you can add a personalised message.
•Tuna fillets with fennel | Santa Catarina
•Sardines in extra virgin olive oil | Cântara
•Mackerel fillets with mustard | Cântara
More information
•Each box is delivered in our custom packaging
•There is an option to include a personalised message.
•On the rare occasion when a tin is out of stock, we will substitute it with a product which is similar.
•The tins contain the allergens fish or molluscs and may contain other allergens such as mustard and sulphites. Please visit the pages of the individual tins for further information.