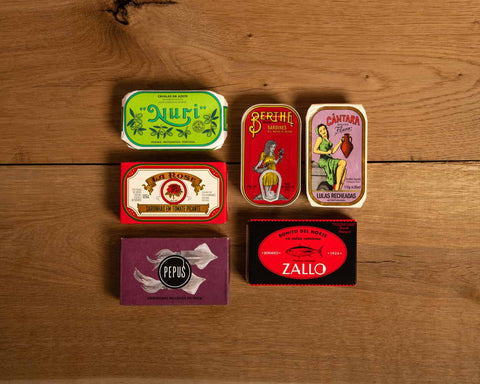 Alcazar
A selection of sardines, mackerel, tuna and squid.
Alcazar box is a colourful roundup of the finest tinned fish. The traditional techniques that the canneries use involve many steps, starting at the morning shoreside markets when the best fish is chosen. The fish is prepared and packed the same day in the best olive oils and sauces by the surest of hands. Once canned, the flavours get even better, growing richer with time.
•Mackerel in olive oil | Nuri
•Sardines in olive oil | Berthe
•Stuffed squid | Portuguese style | Cântara
•Bonito del Norte in salsa Catalana | Zallo
•Stuffed squid in ink | Pepus
•Sardines in spicy tomato sauce | La Rose
More information
•Each box is delivered in our custom packaging
•There is an option to include a personalised message.
•On the rare occasion when a tin is out of stock, we will substitute it with a product which is similar.
•The tins contain the allergens fish or molluscs and may contain other allergens such as mustard and sulphites. Please visit the pages of the individual tins for further information.